The skill in finding the right buyer for the right type automobilia is all down to the fine art of cataloguing.
With the box open and the two Richards delving with expert tenderness into the scrunched-up newspaper, I sense I'm here at a good moment. Sure enough, the package reveals its treasures. Mascots on display plinths, engraved pre-war advertising paperweights, a neat little clothes brush carrying the insignia of some long-defunct garage.
'Now that's interesting,' says Richard Senior, examining a little box with a hinged lid, shaped like a vintage car battery and with 'Firestone' carved into it. Before I can ask the burning question, Richard Junior has given it his expert assessment. 'I think we'd say £25-40, and see where it goes.
Richard Edmonds Auctions of Chippenham, Wiltshire, is one of the UK's largest automobilia auctioneers. Dad, originally in the construction business, has himself been collecting for more than 40 years; son started at the bottom with the Chippenham Auction Rooms, bought that business, and has expanded his remit to include three large motoring-based auctions a year.
These three-day sales are held in a 200ft-long marquee in a local showground. Day one has 800 spares lots go under the gavel. Day two -when I'd be there – sees bidding romp through 1200 lots of automobilia. Day three is for the real cars and Diamondback bikes. 'If you were to see how we managed it all, it would look crazily inefficient,' says Richard the younger (it's him quoted hereon in). 'There's so much to move around from place to place. That's why we plan soon to move to a permanent building.
Meanwhile, consignments roll in relentlessly; often, like the box of stuff being unpacked today, it can be a van-load. 'This chap turned up from Hartlepool, said he'd been monitoring our auctions, and that he'd like us to sell his collection. The van was packed with things, books, enamel signs, petrol cans – lovely quality, as you can see. The great thing is he's just left it to us, no special instructions or anything.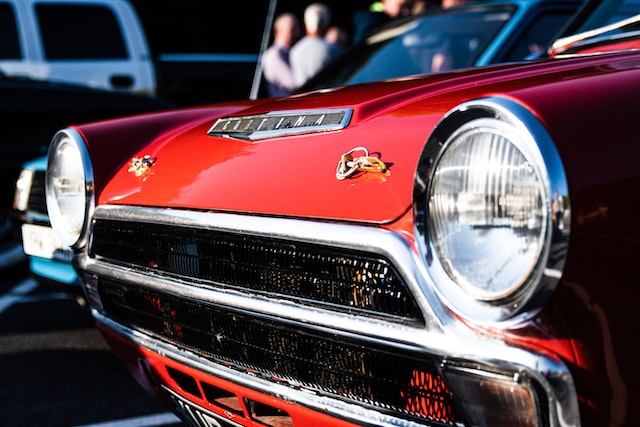 Here is where the true skill of the auctioneer kicks in. Richard spends up to eight weeks before the sale day cataloguing to ensure everything shifts That's no problem with keenly sought items. For instance, the Edmondses claim a world auction record for a petrol can after a saleroom frenzy for a like-new Shell Duo, a two-gallon can to sit on a running board with a tubular section into which a separate oil can slides. It fetched £1000.
For more common items, lots are carefully constructed to reach a minimum estimate, to make the proceeds worthwhile for both auctioneer and vendor. 'Some people have trouble understanding this,' Richard says. 'They'll say they want their Austin Seven handbook to be a single lot because it's in such good condition. The problem is, I know it's only going to make £5, and that's no good to either of us. So I'll say we're going to put it together with seven or eight other handbooks, to fetch £50. Cataloguing is almost a full-time business, so we do know what we're talking about.
Unlike certain other auction houses, which disdain any automobilia lot unlikely to make at least £250, the Edmondses love plenty of affordable lots. 'We think you do need cheaper things, or you just won't encourage younger people to start collecting.
Crumpled Daily Mail City pages fall from an Acme Oil Co paperweight. Richard Jr, checking it's not chipped, sees this as easily an £80 item. For dedicated collectors, the more esoteric the better, and he shows me a wonderful promotional yo-yo carrying mid-1960s Regent Oil livery that, at an estimated £60-80, will almost certainly get brand addicts excited.
Potential sellers might get shirty when they phone up to say they have boxfuls of magazines. To be at all saleable, the mags really have to be pre-war. 'We have to sometimes gently say "Not worth your while".' Any advertising signs, though, be they card, tin or the most sought-after enamel varieties, are eagerly accepted. And you can see why, judging by results. Someone paid £9400 for a Stepney Tyres beauty at the Edmonds' October 2015 auction, in wonderful condition and with a burly British bulldog at its centre, easily beating its £7000 estimate.
But, proportionally, that was nothing in comparison with a tin-on-card 1920 Shellubricate wallchart, over which two bidders battled until the £150 estimate became a £2200 hammer price. A just-consigned sign is a new one on the partners, a double-sided, red-on-green number promoting Ovoline Motor Oils & Greases: you can sense its uniqueness is giving them a tingling feeling at the prospect of so many wide, mesmerised eyes in the auction throng.
'When I started,' says the more venerable Richard, slightly dolefully, 'you could buy three very good BP signs for £40. They're going for £600-800 apiece now. We guarantee everything is genuine. And that is important; some people pay a fortune elsewhere for petrol pump globes for decoration, so they seem not to be worried that it's repro. But there will be a big disappointment if they ever come to sell it.'